Linkfire launches 'next-generation' bio link
Linkfiree has launched what they're calling a 'next-generation' bio link that offers more design customization and advanced features.
Competition among link consolidation providers has led to ever-expanding options for artists and music marketers. Most bring together links from must-have outlets like social media, streaming services, and Bandsintown, along with analytics.
Today's updates are Linkfire's latest attempt to pull ahead of the competition, and in several ways, it – at least temporarily – accomplishes that. Capitol Records, Tokio Hotel, Maroon 5, Michael Bublé, and others have already adopted its new link type.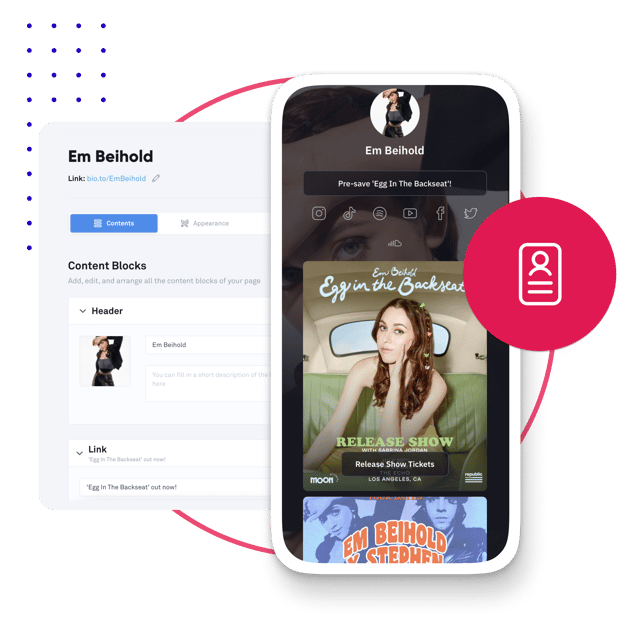 In addition, for more robust and intuitive design customization, Linkfiire has added:
Live preview – You can see exactly what your bio link landing page will look like before it's published
Image blocks – They have been redesigned to add more engaging visual elements to your landing pages. You can now add URLs to make images clickable and have several new formatting options.
Video blocks – Showcase a music video, interview clip, or tour highlights in just a few clicks.
Link blocks – "Want to track clicks and drive more traffic to your website, giveaway, or merch store?" Link blocks can increase your click-through rate.
Social blocks – "Do your Instagram followers know that you have even more great content on TikTok? It's always a smart idea to cross-promote your social media channels." Social blocks make it easy for fans to follow the artist on their favorite of 16 different channels.
Email blocks – Fans can directly share their emails on a bio link landing page, without having to redirect them elsewhere.
Linkfire is hosting a free 'How To" webinar on September 14th to introduce the updates. Register here.
Here's a quick video overview of the new features.
Bruce Houghton is Founder and Editor of Hypebot and MusicThinkTank and serves as a Senior Advisor to Bandsintown which acquired both publications in 2019. He is the Founder and President of the Skyline Artists Agency and a professor for the Berklee College Of Music.
Share on: