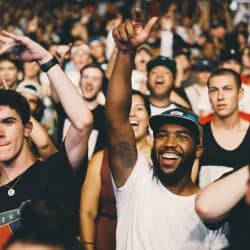 SETLive: Free app helps artists connect with fans at live shows
An artist plays a show in front of hundreds or even thousands of fans who react enthusiastically with applause, fists in the air, and more. But too often, that artist/fan connection is ephemeral.
SET.Live has built a free tool to change that.
Jarred Goldner, Director at SET.Live, joins Michael Brandvold on the Music Biz Weekly podcast to discuss using the free tool to connect with fans at live shows.
At a show, fans can scan a QR code or go to SET.Live where they'll be automatically routed to your show. They can "check-in," vote for encore songs, enter to win prizes, register for meet & greets, browse merch, participate in live auctions, and more.
The app also collects data from fan interactions and automatically updates an artist/manager page with fan votes, contest entries, donations, and more in real time.
Bruce Houghton
Share on: