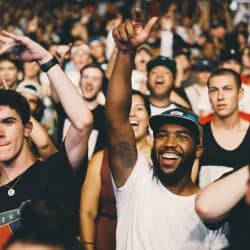 How to build a fanbase from nothing in 2022
What are musicians without their fans? Here are 4 ways to start growing a fan community from ground zero.
from DITTO MUSIC
A band or musician's fanbase is pivotal to the popularity, image and overall success of them as an artist. Your fanbase is who's going to be streaming your albums, sharing your posts and buying your merch – and will also more than likely be the main reason you wanted to get into music in the first place.
Your fanbase will form a large proportion of your motivation to keep making music and playing shows, as well as being a strong indicator of where you are in your career – think stream numbers and social media followings.
Having a loyal fanbase who support and follow you across tours is the ultimate goal for a lot of artists, but you first need to build the foundations ready to develop your group of adoring fans.

---
Start small. Building up an army of loyal fans who are at each show singing back every word to you isn't something that happens overnight. You need to be patient and put both time and effort into nurturing your audience. Trust us, it'll be worth it.
---
Deciding on who you want to target your music and content towards is a great starting point for building your fanbase from scratch. A lot of this will depend on your style of music, but it's important to also identify who you would like to target and appeal to.
Not everyone has the same music tastes – or music consumption habits – so carefully consider whether you're looking to engage an older audience or if you're wanting to tap into a more TikTok savvy Gen-Z crowd.
It's useful to think about what sort of venues you'll be playing, as well as who normally attends these shows, and which artists have played these same places previously.
Once you've identified who you want to be targeting, you can better plan out your strategy in reaching this group and use your time more efficiently.
---
2. Identify your style
After figuring out who your target audience is, you can concentrate fully on identifying and developing your unique artist style. Although this will obviously have existed prior to narrowing down your audience, you can now lean into things with all of your energy and craft yourself a compelling stage and social media presence.
The past couple of years have seen a huge shift in style from the previously 'too cool for school' musicians to the current and authentic styles now commonly seen across TikTok and other social platforms, highlighting a more human and down-to-earth side of some of the world's biggest stars.
A recent shift towards TikTok, Reels and Shorts video content has allowed artists to display a more fun and laid-back style to fans, helping develop and nurture fan bases by giving a behind-the-scenes look into their everyday lives.
Ultimately, it's been proven that if you are true to yourselves and come across as genuine and passionate to your fans, this is the best way to build up your fanbase with loyal and supportive listeners.
---
3. Social media presence

It'll come as no surprise that social media is going to be your best friend when building your fanbase. It's nearly everyone's go-to first step for finding out who you are as an artist and what gigs and festivals you're playing.
You'll want to provide value and useful information on your social profiles, posting consistently and maintaining your individual brand image.
This is your opportunity to engage with your audience and show them who you are. Strategies such as polls, Ask Us Anything stories and exclusive competitions can all massively boost your fan engagement levels and develop your fanbase.
Having an impressive social media presence also increases your chances of being noticed by industry professionals such as record label A&Rs and event promoters. Your accounts should be up-to-date and polished, ready for bookers to have a stalk through. Festival organisers often look at how many followers and streams an artist has as an indication of whether or not to book them.
A&R professionals also regularly use social media and streaming numbers as proof that an act is ready to be put forward to their label, so the possibility of success through having a strong social media presence is endless.
You should view social media as your free promotion tool. It's there to aid you in promoting your content, so don't be passive – get yourself out there and push your art!
Fan engagement and regular posting comes into play here too, so make sure you're marketing yourself as well as possible across your social media accounts. The more eyes on your profiles, the chances are the more fans you're going to acquire.
---
4. Make great music
You can have the best Instagram and Twitter accounts going, but it won't matter too much if you don't have the music to match. Mastering your craft in the studio and putting on rehearsed and tight live performances are going to have the biggest impact on building your fanbase.
It's also important to remember that everyone starts somewhere. Every show, no matter how small, and every new fan is a step closer to landing that major festival booking, so try not to overlook the local fairs and smaller festivals.
While it might not quite be the Pyramid Stage, a local village festival can provide the perfect opportunity to showcase your talent and gain new fans. Make sure you're putting yourself out there and applying to festivals which can provide amazing exposure and massively help build your fanbase.
A strong fanbase takes time to build, so remember to be patient and have faith in both your music and content. Keep chipping away and develop that fan engagement!
Share on: