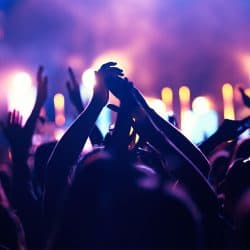 Senators slam predatory Ticketmaster, float forced Live Nation breakup
[UPDATED] Tuesday's Senate Judiciary Committee hearing was unusually bipartisan in condemning Ticketmaster and Live Nation for "monopolistic practices" and "predatory" ticket pricing and fees.
In his testimony before the committee, Live Nation President and COO Joe Berchtold blamed venues for high ticket fees and bots and scalpers for the recent Tayor Swift on-sale problems. The latter "is what led to a terrible consumer experience, which we deeply regret," he said.
Who Really Sets Ticket Fees?
"We do not set ticket prices, the number of tickets that go on sale or set the fees; venues do," Berchtold told Senators, and "the fee that Ticketmaster receives of that fee has steadily gone down."
It is an open industry secret that ticket fees often allow venues to earn revenue outside of their deals with the artist and to pay back advances that Ticketmaster gives in exchange for exclusive long-term ticketing contracts. Top-tier artists sometimes also receive a portion of ticket fees, though most do not.
Witness Jerry Mickelson of independent promoter Jam Productions pointed out that in Europe, venues do not have exclusive ticket deals.
Clyde Lawrence of indie artist Lawrence The Band described how most artists earn their income from live performances but have no control over ticket fees. He added that, usually, he couldn't even find out what the fees will be before they go on sale. Most ticket fees for Lawrence's shows have been around 27%, with fees for at least one show over 80% of the total ticket.
Live Nation's Berchtold said that artists should know their ticket fees in advance and pledged to make that information available.
Blaming bots fell flat
Bechtold blamed bots for the Taylor Swift tour on-sale fiasco, but Mickelson countered that he found the claim that "the world's largest ticketing company" could not do more to stop bots "unbelievable."
Senator Marsha Blackburn (R-TN) echoed Mickelson's skepticism stating that even small tech companies are regularly able to block bots, "so why not Ticketmaster?"
All-in tickets
Bechtold said that Live Nation supported proposed legislation backed by Senator Richard Blumenthal (D-CT) and others requiring "all-in" pricing that includes all fees. Opponents of "all-in" tickets argue that fans deserve more transparency, including fees and who receives them.
Lawrence shares that sentiment, saying that while transparency was essential, fans also "deserved to know what portion was the ticket and what were fees."
"It's not us, it's everyone but us"
While Blumenthal and Bechtold agreed about all-in tickets, the Senator blamed Live Nation for an "it's not us, it's everyone but us" stance, particularly given its "clear dominance and monopolistic control" over the live music marketplace. Mickelson shared data that more than 80% of the top 40 concerts in 2022 were in Tickemaster-controlled venues.
Blumenthal, Senator Amy Klobuchar (D-MN), and several conservative Senators from the other side of the aisle, including Senator Ted Cruz (R-TX), raised anti-trust issues and the possibility that Live Nation and Ticketmaster be separated as companies.
"The only way to restore competition in this industry is to break up Ticketmaster and Live Nation," added Jack Groetzinger, Chief Executive Officer of Ticketmaster competitor SeatGeek.
Bruce Houghton is the Founder and Editor of Hypebot and MusicThinkTank, a Senior Advisor at Bandsintown, President of the Skyline Artists Agency, and a professor for the Berklee College Of Music.
Share on: