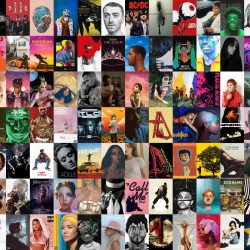 4 ways to create the perfect artwork for your album
Here are four great ways to make your album cover turn heads affordably and with as little as a few clicks.
by Gideon Waxman from the Bandzoogle blog
In the music industry, first impressions are everything. Before potential fans even hear a note of your music, they form judgments based on your album artwork.
That's why it's so important to make sure that your artwork is professional and eye-catching. Of course, it should also be an accurate reflection of your music's style and it should also be something that your fans will want to display proudly on a vinyl or T-shirt.
In this article, we'll give you some tips on how to source great artwork for your album. Fortunately, there are plenty of ways to get high-quality artwork without breaking the bank which we'll cover below.
1. Commission an artist to create custom artwork
The most popular and well-known way to get album artwork is to commission an artist. However, it's also the most expensive, particularly if you're working with a well-known and established artist.
A good artist or graphic designer will be able to work with you to come up with an overall look and feel for the album that accurately reflects your music.
There are many talented designers out there who can help you create an eye-catching album cover. These artists come in at all different prices, so do your research and find someone whose style and price point align with your vision.
There are many places to find artists and graphic designers to commission including:
Art websites like Behance and Dribbble
Online art communities like Deviant Art
Instagram and Facebook groups
Freelance portals like Upwork and Fiverr
When commissioning someone to create custom artwork, be sure to give them a clear idea of your vision. Put together a mood board with images, colors, and other elements that you want to see in your artwork. This will give the artist a good starting point and help them create something that you'll love.
It'll also be helpful to provide examples of art and other album covers that you like, along with your music for creative inspiration.
Prices vary massively, ranging from $100 for a basic album cover, right up to thousands of dollars for something more complex from a well-known artist.
Your best bet is to get quotes from multiple individuals and compare prices so that you can find the best option for your budget.
2. Utilize royalty-free images and graphics for your album art
If you're on a budget and want to take greater charge of the design process yourself, one good way to source album artwork is to use royalty-free images and graphics from stock image websites. These images are free to use and you can manipulate them for your album cover however you like.
There are many good websites you can use for royalty-free images, but some of the most popular are Unsplash, Pexels, and Pixabay. On these websites, you can search for specific images or browse through categories that fit in line with your album's theme.
Crucially, all of the images you'll find on these websites are free to edit too. And this is where you can get creative and make the image your own and make it fit within your aesthetic.
You don't necessarily need to be an expert in graphic design to manipulate an image for your album cover. A free online photo editor like Canva can help you make art by adding text, cropping, and adding filters.
Or there are tools out there like Photopea if you are looking for something that operates like Photoshop.
Build a modern website with all of the tools you need to promote and sell your music. Try Bandzoogle today!
3. Use AI to create unique album art
As the music industry continues to evolve, so does technology. With the help of AI, artists and designers can now create unique and eye-catching album covers that stand out from the crowd.
Using a combination of algorithms and human input, AI can generate truly original images that perfectly capture the essence of the album. In addition to being visually striking, AI-created album artwork is very easy to create and customize.
AI art uses textual prompts that you provide as input, and the tool uses machine learning to generate totally original pieces of art based on your request.
I downloaded a tool called MidJourney, which is currently in its live beta and works through Discord, and the quality of the art it produces is really quite impressive. The top AI art tools available include:
MidJourney
DALL-E
Craiyon
JasperAI
The algorithm is taught how to create art by analyzing millions of examples of real-world art. This means you can ask the tool to generate whatever image you like, and the possibilities are endless.
Best of all, you don't need any experience in graphic design or branding. You can use it very effectively to build an aesthetic for your brand and it doesn't have a steep learning curve at all. In fact, it's really fun to use and experiment with a bunch of different textual prompts.
See below for some art that I made myself on MidJourney. Just a note – these are the very initial outputs that are the lowest quality renders. But you can then upscale any of these ideas to a higher-quality image.
The main drawback with AI art is that copyright law is a bit of a grey area, and although the images you create are legally yours to use, the AI algorithms are based on code that is open source. This means that anyone has the ability to use and modify the code, and can technically modify your image.
4. Get fans involved in the design process
When it comes to designing art, it pays to involve your fans in the process. After all, they're the ones who are going to be buying your merchandise and listening to your music, so they're in the best position to give you feedback on what works and what doesn't. Plus, involving fans in the design process can help to build a sense of community and loyaltyaround your brand.
Of course, there are a few things to keep in mind when you're involving fans in the design process. Not every fan is going to agree on everything, so you'll need to be flexible and open-minded if you want to find the best solution. But if you keep these things in mind, involving fans in the design process can be a great way to create a better product – and a stronger connection with your audience.
Asking for fan feedback can also help you to come up with some truly unique ideas for your album artwork. You can use tools like polls and surveys to get specific feedback from your audience, or you can even host a contest and ask fans to submit their own artwork.
Whatever method you choose, getting feedback from your fans can prove to be a very cost-effective way to obtain artwork from people that understand your music and your brand. Plus, it's a great way to foster a sense of community and loyalty among your fans.
Top tips for creating and sourcing album art
Whether you are looking to create album art yourself, or outsource it, there are a few tips and tricks that will help you get the most out of your design. Here are some of our top tips for creating great album art:
– Don't be afraid to experiment with bolder ideas. Many of the most iconic album covers were quite daring when they were first released, so don't be afraid to go for something a little different.
– Make sure your design is in line with your brand identity: this will help to create a unified look and feel for your brand.
– Don't be afraid to get feedback from your fans: they are the people who will be listening to your music and buying your merchandise, so they are the best people to tell you what works and what doesn't.
– Don't obsess over small details: it's more important to get the overall feel and concept of your design right than it is to nitpick over every small detail. Musicians can often be perfectionists, but it's important to remember that there is no such thing as a perfect design.
– Be careful not to overspend: if you're looking to outsource, it pays to shop around and find the most cost-effective option. This will free up your budget to spend more on crucial things like studio time and better microphones.
– Make sure you have the right licenses: having correct copyright permissions in place before you start to distribute your album art will help to avoid any legal issues down the line.
Wrapping Up
Making and sourcing album art can be a challenging but rewarding process. Hopefully, these tips and tricks will help you to create or source great artwork that is in line with your brand identity and resonates with your fanbase.
——————————————————————————–
Gideon Waxman is a London based drummer and music educator, who holds a Bachelor of Music degree from the University of Westminster. You can find more of his advice over at Drum Helper – one of the web's most popular free online drumming resources.
Share on: