Spotify adds 'DJ' personalized music with AI-driven voice commentary
Spotify has launched 'DJ," which combines a personalized selection of music alongside AI-powered spoken commentary about the tracks and artists in what the streamer calls a "stunningly realistic voice."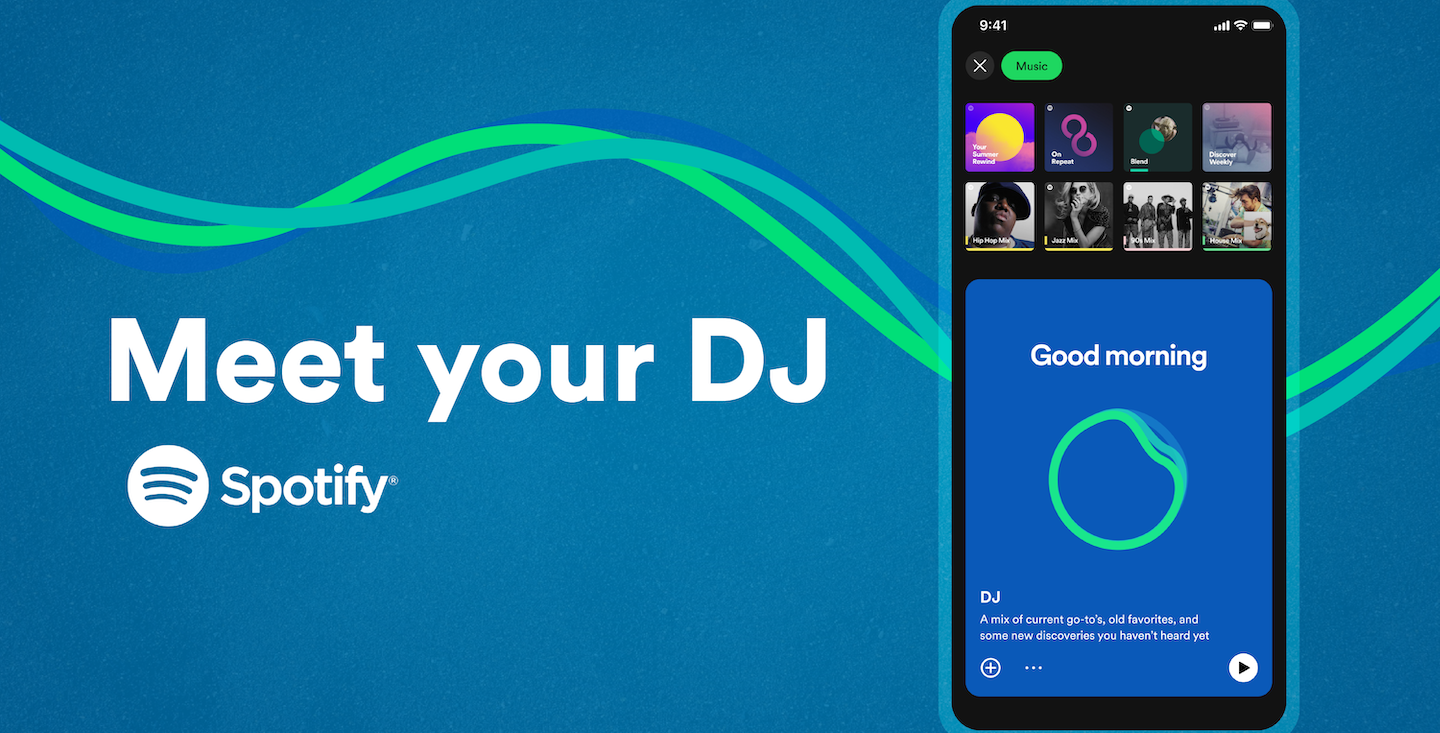 DJ will "sort through the latest music and look back at some of your old favorites – maybe even resurfacing that song you haven't listened to for years," says Spotify. "It will then review what you might enjoy and deliver a stream of songs picked just for you." Songs change based on user feedback.
What's genuinely new with DJ is its addition of "dynamic" AI voice commentary using technology from Spofity's Sonantic acquisition last June. The AI is powered by OpenAI, the company behind ChatGPT.
DJ has the potential to mirror the live disc jockey-driven experience that radio once delivered, and if the demo below is any indication, it could also strengthen the artist-fan connection by adding information that makes listeners want to learn more, listen to deep cuts, and go to a live show.
Spotify on how AI DJ works
"To create the DJ we reimagined the way users listen on Spotify. The DJ knows you and your music taste so well that it will scan the latest releases we know you'll like, or take you back to that nostalgic playlist you had on repeat last year. Never before has listening felt so completely personal to each and every user, thanks to the powerful combination of:
Spotify's personalization technology, which gives you a lineup of music recommendations based on what we know you like.
Generative AI through the use of OpenAI technology. We put this in the hands of our music editors to provide you with insightful facts about the music, artists, or genres you're listening to. The expertise of our editors is something that's really important to our philosophy at Spotify.
We have experts in genres who know music and culture inside and out. And no one knows the music scene better than they do. With this generative AI tooling, our editors are able to scale their innate knowledge in ways never before possible.
A dynamic AI voice platform from our Sonantic acquisition that brings to life stunningly realistic voices from text.
To create the voice model for the DJ, we partnered with our own Head of Cultural Partnerships, Xavier "X" Jernigan. Previously, X served as one of the hosts on Spotify's first (and personalized) morning show, The Get Up. His personality and voice resonated with our listeners and resulted in a loyal following for the podcast. His voice is the first model for the DJ, and we'll continue to iterate and innovate, as we do with all our products."
How to use Spotify's DJ
It's rolling out in English starting today for Spotify Premium users in the U.S. and Canada.
Head to your Music Feed on Home in the Spotify mobile app on your iOS or Android device.
Tap Play on the DJ card.
Let Spotify do the rest! The DJ will serve a lineup of music alongside short commentary on the songs and artists, picked just for you.
Not feeling the vibe? Just hit the DJ button at the bottom right of the screen to be taken to a different genre, artist, or mood.
Spotify says this is just the start of how it will use AI to "transform audio."
Later this week, I'll share what I and others in the music industry, including from broadcast radio, think of Spotify's DJ and its potential for artists, labels, and fans.
Bruce Houghton is the Founder and Editor of Hypebot and MusicThinkTank, a Senior Advisor at Bandsintown, President of the Skyline Artists Agency, and a professor for the Berklee College Of Music.
Share on: