Collabs are a major contributor to success on Spotify
Here is an in-depth look at some of the music crossover collaborations that made waves on Sptoify both in and out of the artist's usual genres. Read and learn how collabs can work for you.
The crossover collaboration is one of music's great traditions. When artists from different genres, regions, or simply different career stages bring their talents together on a track, it's sure to capture fan attention. It can even breathe new life into a song or group.
When Run-D.M.C. linked up with Aerosmith in the '80s to reimagine the latter's single "Walk This Way," it resulted in an international smash hit. It also helped birth the rap rock subgenre and still stands as Run-D.M.C.'s biggest hit. Decades after its release, the song has racked up hundreds of millions of streams on Spotify to date.
More recently, we've seen major crossover collaboration moments from the likes of SZA and Phoebe Bridgers on "Ghost in the Machine," PinkPantheress and Ice Spice on "Boy's a Liar Pt. 2," and Taylor Swift and The National on "The Alcott."
While these collaborations offer new avenues for creative exploration, they also bring together each artist's distinct fan bases, providing an opportunity for everyone involved to expand their audiences.
"I think one of the biggest things is how music collaborations can connect genres," explains John Stein, Spotify's North America Head of Editorial. "We see a lot more of these collaborations, and I think each artist's core audience seems to be more open to these moments than in the past."
It's easy to see why artists love this approach, but how do fans respond? Are they listening more on Spotify when they discover a new artist on one of these songs?
We took a look at more than 40 of the biggest crossover collaborations from the last 12 years and found that six months after the collab was released, 75% of artists involved saw an increase of at least 10% in overall Spotify streams across their catalogs compared to the six months prior. More than 50% of those same artists saw their number of streams grow by at least 50% in that same time period, while 30% saw their number of streams rise by at least 100%.
And while many of these collaborations are well received, some of them have been very well received.
There are few examples that paint this picture more clearly than Lil Nas X and Billy Ray Cyrus uniting on "Old Town Road – Remix." In the six months following the song's release, the increase in shared listeners between the two artists skyrocketed by nearly 390,000%.
For further proof, you can also look back to 2017, when Latin music icon Luis Fonsi joined forces with reggaeton godfather Daddy Yankee on "Despacito." The song quickly caught on with fans around the world, but its popularity went into overdrive and the song became an inescapable tour de force when Justin Bieber hopped on the "Despacito (Remix)" three months later.
Luis in particular saw his fame reach unforeseen heights, and in the six months following the release of the original version, streams of Luis Fonsi on Spotify jumped by more than 2,600% (compared to the six months prior).
But it was the remix, specifically, that helped to expand the Puerto Rican singer's reach in English-speaking markets. Spotify streams of Luis Fonsi in the U.S., U.K., and Canada combined spiked by more than 4,300% in the six months following the release of "Despacito," with most of that increase coming after the remix dropped.
"When the 'Despacito' remix came out, it felt like a huge and rare moment to have artists from such different backgrounds and genre spaces collaborate and experience such success," John says. "Now it feels like it happens all the time, and there's almost a level of expectation that artists are going to mix it up and work with artists from different spaces. And I think we see that reflected in the data on the platform and in the reaction on our playlists."
Such is the case with Nigerian afropop star Rema and American pop star Selena Gomez, who created a cross-continental connection on the 2022 hit "Calm Down."
"When Rema dropped the solo version of 'Calm Down' last year, it was doing really well in terms of streams, especially in Africa," John explains. "Then, at the exact right moment, Rema teamed up with Selena Gomez on a new version of the track."
In the six months following the collaboration's release, daily Spotify streams of Rema in North America increased by more than 230% compared to the six months prior. Meanwhile, daily Spotify streams of Selena Gomez in sub-Saharan Africa increased by more than 120% in that same time period.
"With Selena being such a big pop star globally, I think the song reached an audience that checked it out to see what Selena was doing," John says. "But they kept coming back because it was such a good song."
And much like Lil Nas X and Billy Ray Cyrus, the respective fan bases of Rema and Selena Gomez started to merge together. In the six months following the release of "Calm Down," the number of fans who listened to both artists increased by over 600%.
A springboard to success
For emerging artists, the crossover effect can help them break through in previously untapped markets, or help them define their musical identity on their own terms.
When Khalid had his breakthrough moment with his 2016 hit single "Location," he was often labeled as an R&B artist. But after his 2017 collaboration with Alina Baraz—an artist who floats between the lines of pop, R&B, and electronic—on "Electric," Khalid flashed his potential to be a pop star in the broadest possible sense.
And, like Luis Fonsi, Khalid is another artist who benefitted from the crossover effect. Following the release of "Electric," streams of Khalid on Spotify spiked by more than 3,100% in the six months following its release (compared to the prior six months).
Building on the momentum of "Electric," Khalid showcased his versatility as he hopped between genres on a number of high-profile collaborations. At every turn, the singer won over new fans, appearing alongside Alessia Cara on Logic's "1-800-273-8255" and connecting with EDM producer Marshmello on "Silence." To date, both songs have been streamed more than a billion times on Spotify.
"The editorial team used to have a lot of conversations about Khalid, and the general consensus was, 'Wow, he is on everything,'" John reflects. "He has a really unique voice that brings a special quality to songs, so it makes sense in a lot of ways that he was finding success with those collaborations."
Khalid's fruitful run even included an appearance on Billie Eilish's 2018 chart-topping juggernaut "lovely," which has been streamed more than 2 billion times and remains his most successful song to date.
Amplifying crossover collaborations
In the streaming era, fans' access to music isn't limited by what's on the radio or TV, or by what's available at the record shop. With a few taps of the screen, fans have instant access to the catalogs of millions of artists.
So when a collaboration comes along that catches the ear of listeners, there are a variety of features on Spotify that both enhance the discovery process for fans and help expand the reach of those songs even further.
Many Spotify fans often start with search. And when they discover a new artist through a crossover collab, we've noticed a sizable jump in searches for that artist.
When Grupo Frontera collaborated with Bad Bunny on "un x100to," the star power of Spotify's three-time most-streamed artist confirmed Música Mexicana's status as an explosive genre on the rise.
In the two weeks that followed the release, daily Spotify searches for the Mexican sextet surged by more than 330% compared to the two weeks prior. At their peak, searches for Grupo Frontera increased by more than 1,100%.
The National experienced a similar bump from their collaboration with Taylor Swift, with Spotify searches increasing by more than 1,500% on the day of release.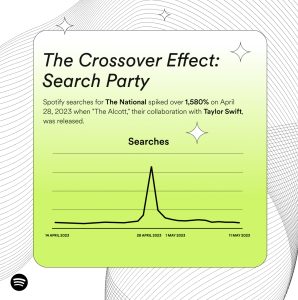 For Spotify's global team of editors, successful crossover collaborations also offer up a valuable signal that helps guide their curation of playlists. Every week, our editorial team sits down and discusses the latest cultural movements in the regions and genres they focus on. When a crossover collaboration starts to make waves, it can encourage editors to feature them in playlists they might not have appeared on before.
"I know among our indie-focused editors, there was a discussion of the SZA and Phoebe Bridgers single and whether or not it was an indie track," John explains. "While SZA might primarily be a pop or R&B artist, our editors overwhelmingly felt that it was an indie song, and having Phoebe on 'Ghost In The Machine' helped her open the door to Spotify's core indie audience."
Crossover collaborations can also appear on personalized playlists like Release Radar and Discover Weekly if a Spotify listener follows or regularly listens to one of the artists involved. When that happens, fans can easily discover the other artists.
"I think in the case of Ice Spice and PinkPantheress—with one being a rapper from New York and the other being a British artist who makes dance-oriented music—Release Radar has helped them both reach each other's core audiences across genres and regions," John says. "These types of collaborations can make listeners more open to checking out a new artist if they like what they hear."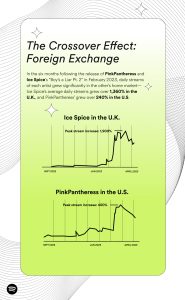 Spotify for Artists' Fan Study has previously revealed that artists see their international reach increase significantly when they collaborate with someone outside of their home market. And we found the same to be true for Ice Spice and PinkPantheress. In the three months that followed the release of "Boy's a Liar Pt. 2," daily Spotify streams of PinkPantheress grew by nearly 250% in the U.S. (compared to the six months prior). Ice Spice, meanwhile, had a breakthrough moment in the U.K., with daily Spotify streams of her songs rising by nearly 1,400%. At the peak, daily streams for PinkPantheress and Ice Spice soared by more than 400% and 1,900% in the U.S. and U.K., respectively.
Taken altogether, the numbers on display here tell a powerful story about the crossover effect. This insight is invaluable, suggesting that the cross-cultural exchanges and expression of fresh ideas can lead not only to globe-expanding visibility, but the opportunity to forge new career paths. As the songs grow, so do the artists.
Share on: