Recorded music revenue grew 9.3% to all-time high of $8.4B in first half of 2023, says RIAA
The Recording Industry Association of America (RIAA) mid-year 2023 report shows that the industry hit new revenue milestones in its ninth consecutive year of growth.
Total recorded music revenues grew 9.3%, hitting an all-time first-half-of-the-year high of $8.4 billion, with paid subscriptions the strongest driver, accounting for 78% of streaming revenues.
Streaming remains the dominant form of music consumption in the United States, responsible for 84% of total recorded music revenues in the U.S. and growing 10.3% to $7 billion. Paid subscriptions grew even faster, topping 11% growth over the first half of this year.
Over the past five years, the number of people paying for music subscriptions has more than doubled.
Physical formats have now reached their highest level since 2013, but growth slowed to just 5% over 2022 at $882 million. Vinyl sales hit $632 million for the first half of 2023, accounting for 72% of all physical music sales.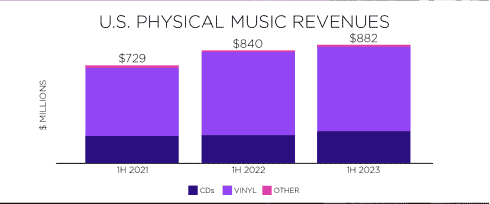 "This report describes a thriving, growing music ecosystem that continues to reach new heights and shape our culture," commented RIAA Chairman & CEO Mitch Glazier. "And it reflects the creative human genius and hard work of all the artists, songwriters, labels, publishers, and services who make the music happen and meet fans and audiences where they are in today's forward-looking and innovative music community."
Read the full report here.
Bruce Houghton is the Founder and Editor of Hypebot, a Senior Advisor at Bandsintown, President of the Skyline Artists Agency, and a Berklee College Of Music professor.
Share on: