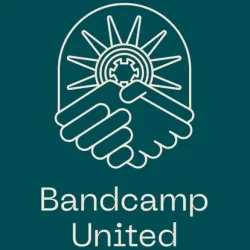 Bandcamp Union files Songtradr labor complaint, points to racial bias
The Bandcamp United Union has filed an unfair labor practices complaint with the National Labor Relations Board against Songtradr, who recently purchased the indie music marketplace from Epic Games.
The complaint alleges anti-union practices after none of the eight members of the Union's Collective Bargaining Committee were offered new employment contracts by Songtradr.
"Within the previous six months, the Employer refused to hire an employee(s) because the employee(s) joined or supported a labor organization and in order to discourage union activities or membership," according to the filing.
Racial Bias?
Bandcamp United also shared stats that showed that Black employees were also disproportionally hurt by the layoffs that cut 59 of Bandcamp's 119 employees.
"Only 4 of Bandcamp's 19 Black employees received job offers after the sale of Songtradr," according to the post. "As a result, the number of Black employees at Bandcamp was reduced by 79% overnight."
H/T: 404 Media
Bruce Houghton is the Founder and Editor of Hypebot, a Senior Advisor at Bandsintown, President of the Skyline Artists Agency, and a Berklee College Of Music professor.
Share on: