Instagram Broadcast Channels is game-changer for Musicians: How To Guide
Instagram Broadcast Channels can bring you closer to your fans and promote more social media engagement. Here's how to get started…
by Janelle Borg of AmplifyYou
Looking for a new way to connect with your audience and build your very own superfan community? Then, look no further. Instagram's latest feature, Instagram Broadcast Channels, is the perfect way to offer exclusive, behind-the-scenes insights into your daily life as an artist and give your superfans the latest updates, straight from the horse's mouth. Here's a quick guide on how you can get started with Instagram Broadcast Channels.
What are Instagram Broadcast Channels?
Instagram Broadcast Channels are a relatively new feature that allows artists and creators to establish a direct line of communication with their followers. This direct approach gives you the opportunity to share behind-the-scenes content with your fans and increase fan engagement.
Broadcast Channels are unique in that only the creator who set up the channel can send out broadcasts, as opposed to group chats where anyone can send a message. This feature gives Instagram Broadcast Channels the feeling of a super-charged mailing list. Fans can respond by leaving emojis on the creators' comments and participating in polls.
How to create a broadcast channel on Instagram
The first thing you need to do in order to set up a broadcast channel on Instagram is to switch your account type to a Creator Account. To date, this feature is not yet available to personal and professional accounts. Unfortunately, this feature is not yet available in all regions, so you might need to wait a little bit longer if it's not yet available in your region.
Update your Instagram app
This might seem obvious, but if you haven't updated your app in months, you won't have access to this feature. Open the App Store or Google Play, search "Instagram" and tap "Update" to get the latest version of the app.
Create your Instagram Broadcast Channel
To create a broadcast channel on Instagram, start by tapping the "Send" or "Messenger" option located in the top right corner of your feed. Next, tap the icon in the top right. Now, select "Create broadcast channel." Once you do this, you can name your channel, choose your audience, set an expiration date for the channel, and decide whether you want it displayed on your profile.
Invite others to join your channel
There are a few ways to invite your superfans to your channel. You can share a special invitation link, add your channel to your stories or share a message from the channel straight to your story. If you're doing the latter, tap and hold on the message and hit "Share to story." Anyone who sees your story can then tap on it and join your broadcast channel.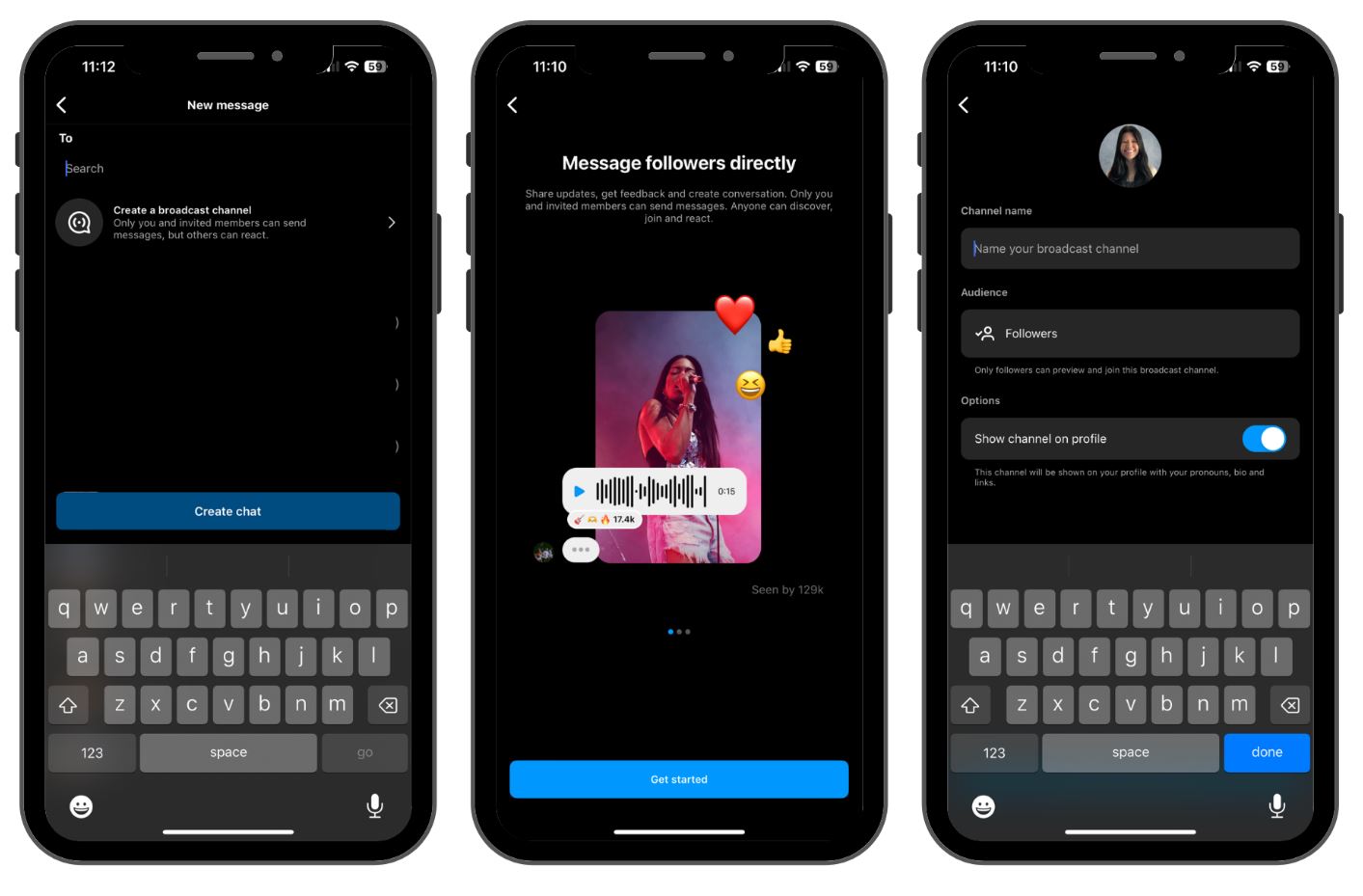 What content should I post to my Instagram Broadcast Channel?
Song demos
Have you just released a song you want to promote? Or are you currently in the writing room and dying to share bits from your writing process? Sharing song demos on Instagram Broadcast Channels is a great way to give your fans a sneak peek at what the writing process entails and how their favourite songs came to be.
Polls and questions
Polls and questions are a great way to interact with your fans and make them feel involved in your project. It is also a great way to gain insight into where they want to see you next, what their favourite songs are and what kind of merch they would buy.
Announcements
It's no secret that announcements can easily get drowned out in the cacophony that is social media. Therefore, having a direct line of communication like Instagram Broadcast Channels enables you to reach your fans in a more direct manner than feed posts and stories, and give tour and release announcements the attention they deserve.
Behind-the-scenes content
Who doesn't like exclusive behind-the-scenes content from their favourite artist? Broadcast channels on Instagram are the perfect vehicle to post low-stakes, candid moments that your fans will love. These "fly-on-the-wall" glimpses into your daily life and creative process are guaranteed to create a stronger bond with your audience.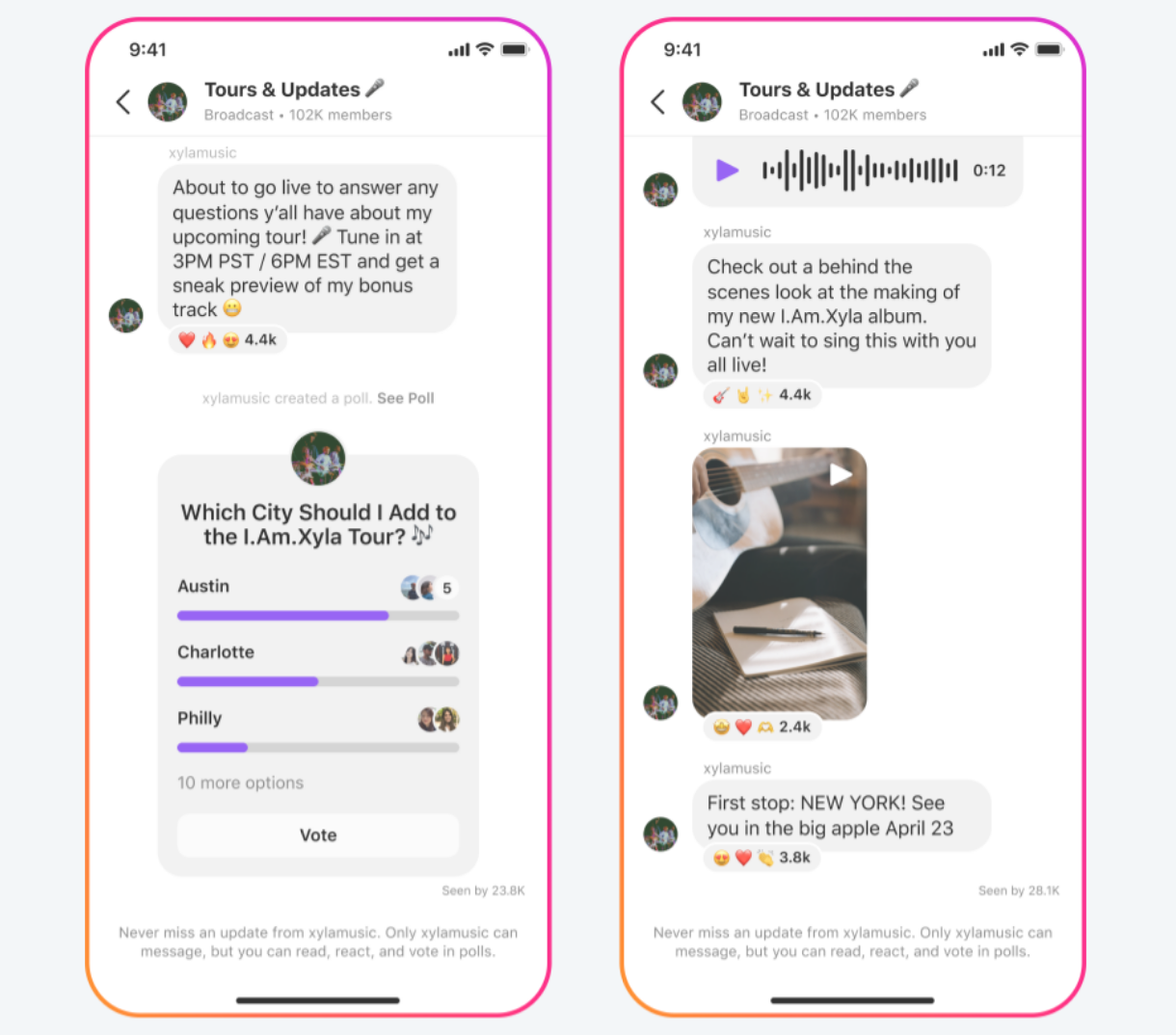 Collaborations
Have an exciting collaboration coming up? Highlight your collaborations with other musicians, artists or even other creative professionals by organising Channel takeovers, broadcasting behind-the-scenes videos with other artists, or even holding joint Q&As. These collaborative efforts not only add depth and variety to your broadcast channel, but also expand your community through audience cross-pollination.
Share voice notes
Fancy yourself a radio DJ or podcast host? You can now set up your very own mini-podcast via Instagram Broadcast Channels. Share your thoughts with your audience, talk about the topics close to your heart, and ask forfeedback on song demos by sharing voice notes. What's more, you could also explore other avenues, like hosting live workshops related to your craft, or setting up an online book club.
Final thoughts
In an era of content oversaturation, Instagram Broadcast Channels offer a clear and direct line of communication that amplify your content and community. As with any other new app or feature, it pays off to be an early adopter. So make sure you hop on the Instagram Broadcast Channel bandwagon ASAP to stay ahead of the curve and create a thriving community of superfans who will stay with you in the long run.
Janelle Borg knows a thing or two about the music industry. Having been involved in the industry since the age of 13, she's now involved in a variety of music-related projects and is always keen to share industry tips 'n' tricks with fellow musicians.
Share on: